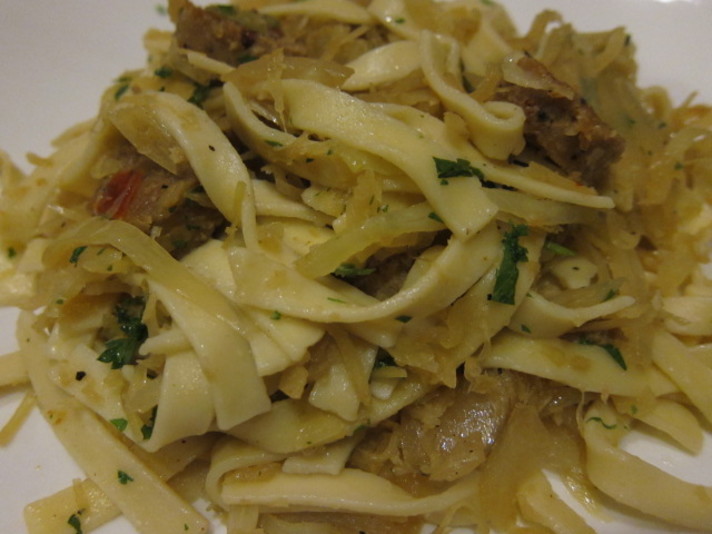 Ingredients
3 tablespoons olive oil
6 -8 vegetarian sausages ( MorningStar or Boca are good)
1 large sweet onion, quartered and thinly sliced
1 (16 ounce) packages shredded mixed cabbage ( or 1 lb. you shred yourself)
3/4 cup vegetable broth
8 ounces wide egg noodles, yolk-free if desired ( 6 1/2 cups)
2 tablespoons chopped fresh parsley
1 tablespoon poppy seed, as desired
paprika
Directions
Bring large pot of lightly salted water to a boil for noodles.
Meanwhile, in large, wide skillet, heat 1 tablespoon oil over medium heat.
Add veg.
sausage and cook, turning often, until browned on all sides, about 7 minutes.
Transfer to plate.
In same skillet, heat remaining 2 tablespoons oil over medium heat.
Add onion, and cook, stirring often, until golden, about 8 minutes.
Stir in cabbage and broth.
Cover and cook, stirring occasionally, until cabbage is wilted and just beginning to brown lightly, about 10 to 12 minutes.
While cabbage is cooking, add noodles to boiling water.
Cook until just tender, about 10 minutes.
Cut veg.
sausage into 1/2-inch-thick rounds.
Drain noodles well.
Transfer to large serving dish.
Add cooked cabbage, veg.
sausage slices, parsley, poppy seeds, 1/2 teaspoon salt and 1/2 teaspoon freshly ground pepper.
Toss gently but thoroughly to combine. Sprinkle with paprika to taste.
Serve hot. Enjoy!
Enjoy!