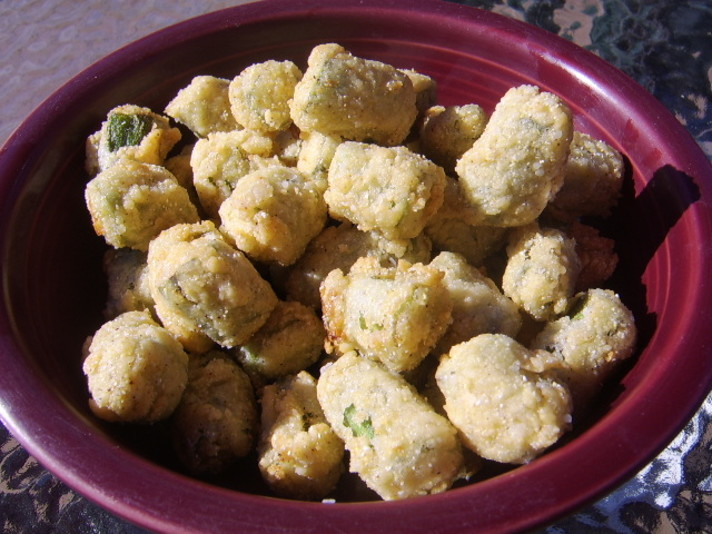 Ingredients
vegetable oil, enough to fill your skillet no more than half way up
1/4 cup cornmeal
1/2 cup all-purpose flour
1 teaspoon salt
1/4 teaspoon black pepper
1/4 teaspoon garlic powder
1/8 teaspoon cayenne pepper
1 lb fresh okra, sliced 1/2 inch thick
1/4 cup buttermilk
Directions
Heat the oil in a large, heavy-bottomed skillet (may use sauce pan, but you'll have to cook in more batches) to 350 degrees F.
In a plastic bag, combine cornmeal, flour, salt, black pepper, garlic powder, and cayenne pepper. Shake it up to mix it up thoroughly.
Place cut up okra in a bowl, and pour the buttermilk over it. Toss it so that each piece is coated with buttermilk.
Add the okra to the bag with the cornmeal mixture in it, and shake it well to coat.
Carefully add the okra to the hot oil, and cook until golden brown. You may need to cook it in batches, depending on the size of your skillet or pan.
Remove from oil, and drain on paper towels. Test a piece to check and see if you need to add more salt. Do so if needed. Serve immediately and enjoy!